Park Rentals
View Calendar Info Sheet Reserve Now
Oil and gas companies and related businesses invited to reserve their dates today
The idyllic setting of Centennial Park will impress your guests and have them talking about how perfect everything was. Whether you are planning an intimate gathering for a few friends or associates or a catered banquet for several hundred, Centennial Park can adapt to your needs.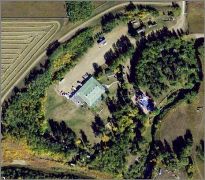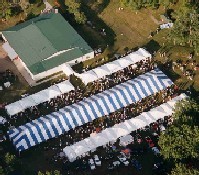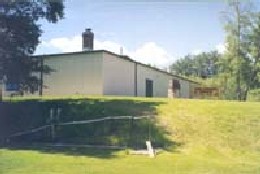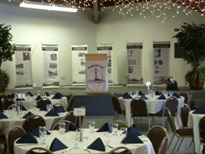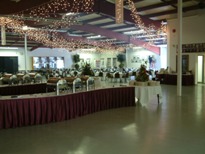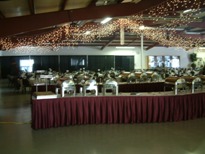 The Fin Lineham Pavilion was built in 1988-1989.
The all-weather, air-conditioned pavilion can accommodate small or large functions, with seating for up to 763.
The hall features a food prep area with two coolers and a freezer, a large stage and a fireplace.
There is also a beautiful, large deck built in 2012, with seating for up to 165.
Fountain pop system and sound system are available for an extra fee.
The 10-acre park is well-suited for picnics and other outdoor events and activities.
In addition to the world class museum, the park features horseshoe pits, a playground and a firepit.
For a fee, lImited overnight camping is available at the park; RVs only, no tenting allowed. There are no water, power or sewage hookups.
Rental Rates
The Park / Hall can only be rented by members and non-members of the Edmonton Oilfield Technical Society.
The daily Member's Park / Hall rental rate is $700.00 plus GST for the first 100 people and $3.00 plus GST for any additional people.  
The daily Non-Member's Park / Hall rental rate is $800.00 plus GST for the first 100 people and $3.00 plus GST for any additional people.
An additional charge of $200.00 plus GST will be applied for all wedding ceremonies held at the park.
Weekend Package Rates – Full rate for Saturday, 50% discount for Friday (10:00 am to 6:00 pm) setup and decorating and / or 50% discount for Sunday cleanup (must be completed by 4:00 pm).  Full rates apply if rehearsal dinners, gifts openings or other similar functions are held on the Friday and / or the Sunday.  Time periods exceeded on the Friday and/or Sunday will be billed at $100.00 per hour plus GST
Park rental only, with no access to the Hall and must use the port-a-potties with less than 100 people: Members - $400.00 per functions, Non-Members - $500.00 per function. This rate is valid only from Monday to Thursday.
A $1,000.00 damage deposit must accompany one fully executed copy of the agreement, which must be received by the OTS before the date(s) requested will be guaranteed for you
View the Information Sheet for more details
See the Park Rental Calendar for available dates.
If you are interested in Holding a Date please fill out this form.
For further information requests before booking please contact us